Т-34 – TANK OF VICTORY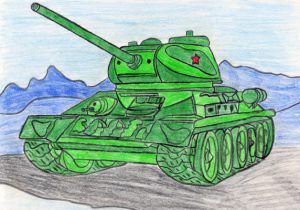 In pursuance of Decree № 211 of the President of the Russian Federation dated 9 May 2017 «On the preparations for and the celebration of the 75th anniversary of the Victory in the Great Patriotic War» Т-34 Tank Museum will hold a series of art exhibitions dedicated to the legendary armored vehicle of the ХХ century. Exhibition of the art works made by schoolchildren from Moscow, Lobnya and Marfino opened in September.
By way of this exhibition the Museum invites the educational institutions of Moscow and Moscow Region to participate in the artistic efforts with a view to show the role of Т-34 and the heroes who fought in it in the defense of the Motherland during the Great Patriotic War.
The exhibition is on display on the first floor of the Museum. No preliminary registration to see this exhibition is required. Entry tickets to the Museum and privileged visitor terms are valid. The exhibition is on display until the end of October 2019.