JUST AS A TANK'S ARMOR…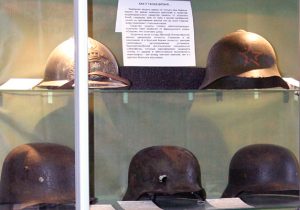 Armor is a material that has the properties required for the protection of an object from any external impact.
Strong armor of tanks was widespread mostly in the sphere of warfare. But the designers of military uniform never ignored the means of personal protection of soldiers and officers. For many years steel helmets have been in use all over the world. The name of such type of headgear originates from the French word "casque".
The exhibition that is now on display on the ground floor of the Museum demonstrates steel helmets of the WWII years from the USSR, Hungary, Germany, Italy and Romania.
Admission is by the standard ticket to the Museum. All benefits for the privileged visitor categories is available.