BATTLE OF MOSCOW. COUNTEROFFENSIVE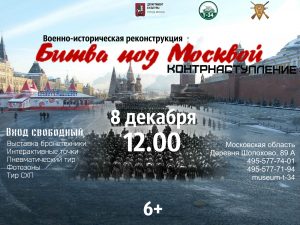 A military history re-enactment dedicated to the 77th anniversary of the counteroffensive of the Soviet troops in the Battle of Moscow and to the Day of the Heroes of Motherland will take place in the Museum on Saturday, 8 December 2018.  It will be opened by the re-enactment of the legendary military parade held on the Red Square on 7 November 1941.
Apart from this event the visitors will be able to familiarize themselves with the training grounds of military history clubs, as well as with the exhibitions of arms, uniforms and military hardware of the war years.
The re-enactment will start at 12:00 and will be free of charge for the visitors. No preliminary registration is required. Do not forget to get dressed with consideration to the weather on this day.
On 8 December the Museum will be open as usual with admission by tickets. All benefits for the privileged visitor categories will be available.
The video of the first episode of the military history re-enactment, i.e. "Battle of Moscow. The Beginning" (8 September 2018) can be viewed here: